Calculation of shipping rates for various situations where the conditions differ can be a stressful and time-consuming task for business owners. There was a great need for software that would help owners and managers create rules that can handle complex combinations of conditions for shipping products.
WooCommerce has undergone a great expansion due to the demand on the market, and therefore today there is a large number of different plugins that are supposed to help admins and managers. However, one made its way through based on results gotten. This time we proudly present you WooCommerce Table Rate Shipping plugin as the greatest solution to WooCommerce.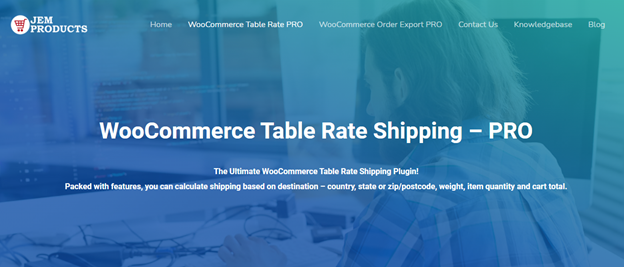 WooCommerce Table Rate Shipping plugin ensures full control over the way shipping and rates are handled. The option to make a rule based on conditions in this plugin will determine the price at the checkout. The first impressions of any user of WooCommerce Table Rate Shipping include high flexibility and a user-friendly environment that ensures the maximum customer experience. Features that come with this plugin are grouped and can get accessed through expandable sections. Keep in mind that the plugin is all about user experience and therefore many options will not even show up unless you truly need them.
This plugin allows admins to manually add multiple shipping rates based on different parameters. In fact, there are plenty of aspects that an admin can consider when creating a rule in order to maximize profits while keeping the company cost low. Such aspects can be any of the following: class, weight, shipping zone, subtotals and totals in the cart, and much more. The goal was to let the store owners customize shipping rates and set rules that are aligned with the parameters available. Even though the free version will satisfy the needs of new users, the pro version of the plugin will help you take your e-commerce a step further without a doubt. The pro version lets you configure parameters separately and individually, which saves the admins significant amounts of time.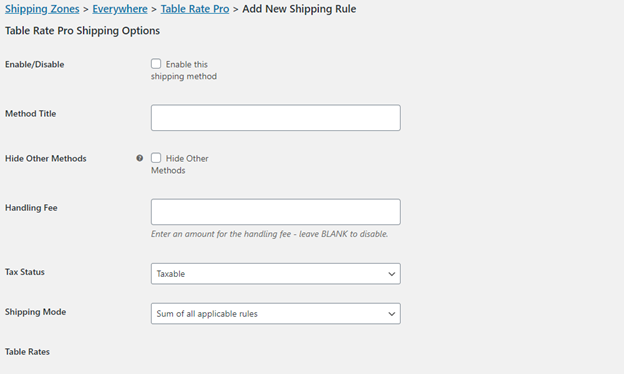 Bundle Rate Shipping is no longer an issue with the pro version. In that context, the plugin lets the administrator or a store owner set particular conditional customization. Nonetheless, the flexibility of this plugin removes the borders of possibilities. The pro version of WooCommerce Table Shipping will let you configure shipping scenarios for carriers just like Royal Mail is with great ease. Complex rules are now made easy. The plugin will let you insert a sentence or two next to the rule created, so the owner or an administrator can quickly understand. Besides increased accuracy, this significantly improves the user experience as well.
Security is an important aspect of any internet sales business. If you are a novice on top of that this plugin will solve several issues for you. Regular updates are focused on improvements in client support and security aspects, making the WooCommerce Table Rate Shipping plugin the only one you need for successful WooCommerce management. Client support is one of the strongest assets of this plugin.
When people encounter a problem or an issue, they highly appreciate fast feedback. Customer support for the WooCommerce Table Shipping plugin is considered one of the fastest, which makes users understand the plugin both better and quicker. You can even motivate your users to register by setting the shipping rules that will apply only to logged-in users. Go ahead and change the shipping method label to get more respect from your customers. For example, when certain shopping items end up in a cart you can manually set the label that will be shown to your buyers.
If you are into WooCommerce then you don't need to look beyond WooCommerce Table Rate Shipping. This plugin makes even the most complex order shipments easily manageable, with a set of additional options regarding the rules and conditions. Rate shipping can now be calculated based on any of the parameters, such as class, weight, shipping zone, etc.
The pro version offers additional easily usable customization procedures. With the pro version, you can create advanced shipping rules and make unique shipping methods that are named just as you wish. Pro users enjoy the possibility of changing shipping labels and much more when it comes down to customizations. Even if they wish that some shipping methods show up in a certain order – this plugin does that. Drag and drop feature along with an intuitive interface is probably the reason why this plugin is the king among WooCommerce plugins.