Using WordPress to run a website is a good choice, especially given all of the benefits that WordPress delivers. However, as the most popular CMS on the market, WordPress is the often primary target for hackers who look to breach into websites and access all vital information. More than 40% of small businesses are targeted for attack, yet few of them have the necessary security tools to protect themselves.
As a website owner, you should do all it takes to make your website the safest location for customers to come to without worrying about their passwords, credit card numbers, or other personal information leaking.

In this article, we will introduce you to robust software that will take the security of your website to a whole new level. We are going to talk about Security Ninja!
Security Ninja is a versatile and all-around software that equips your WordPress site with the tools necessary to secure it from hackers, spammers, and other phishing software. It is a very reliable piece of software that has been keeping websites safe for over ten years and is trusted by over 10.000 users worldwide!
It equips you with seven really useful tools for maintaining the security of your WordPress website, including:
Firewall Protection
Malware Scanner
Core Scanner
Scheduled Scanner
Events Logger
Vulnerability Scanner
Security Testing
Now, let's dig deeper and find out more about these tools.
1. Firewall Protection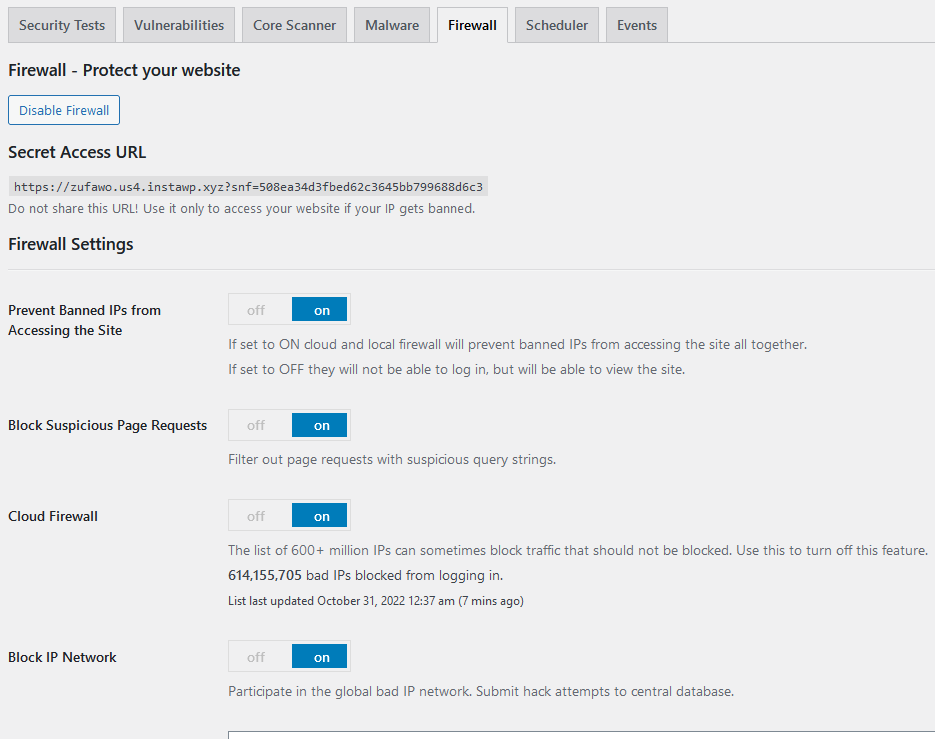 One of the most effective methods of protecting your website is prevention. Security Ninja has an excellent tool that will prevent any bad visitors with bad intentions to harm your website, endangering its content and your client's personal information. When it comes to preventing any suspicious efforts by attackers to access your website and utilizing multiple types of protection to block them until it's too late, Firewall Protection will do the job.
This tool includes a wide range of extra functionalities, including:
Blocking 600+ million IPs: according to the list of known bad IPs which gets updated twice a day
Country Blocking: block the visitors from a specific country
Redirect Blocked Visitors: divert blocked visitors to another URL of your wish
Block Spam: block more than 100.000 spammers according to the blocklist
Block Suspicious Requests: This feature blocks visitors' malicious requests
… and more!
2. Malware Scanner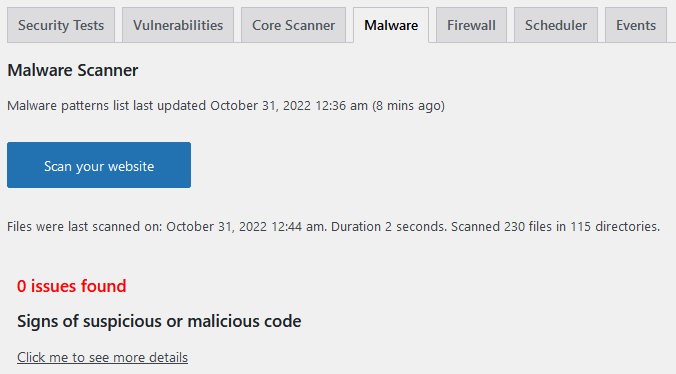 Having the highest possible security on your WordPress website does not mean you have a well-protected website that is difficult to breach and access by unauthorized people or software. Every piece of software now, no matter how well-protected it is, may be broken into, and this is nothing to be concerned about. Every new update of, perhaps, plugins or other software can introduce vulnerabilities and holes in the security system. This is a part of every new update and can thus be exploited by hackers to gain access to your website.
However, Security Ninja's Malware Scanner tool provides the greatest and least painful method of preventing these bad things from happening. It checks both active and disabled theme and plugin files, all files uploaded to the wp-content folder, database tables, and every other nook and cranny of your WordPress website directory for malicious code that may have been placed into a genuine one.
Every plugin installed from the official WordPress repository is checked against the checksums list, ensuring the necessary accuracy in the search for harmful code that may have been placed into the original one.
3. Core Scanner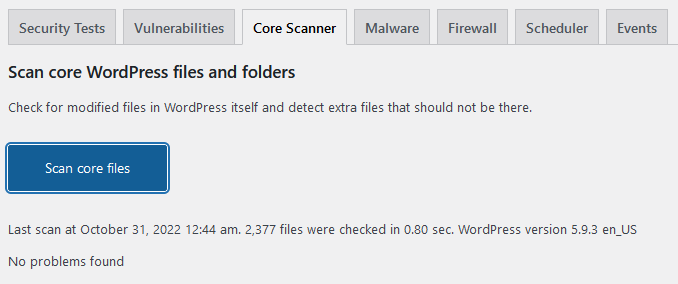 What Malware Scanner can't find, Core Scanner corrects! It compares over a thousand of your core WordPress files to the master copy from WordPress.org and provides scan results that show you whether even a single byte has changed! That is how extensive and accurate this tool is.
If it is detected that the original code has been modified, you can quickly react and restore the original. Core Scanner will do thorough scans of WordPress core files, quickly discover faulty files, restore modified files to their original state, repair broken updates, and more!
4. Scheduled Scanner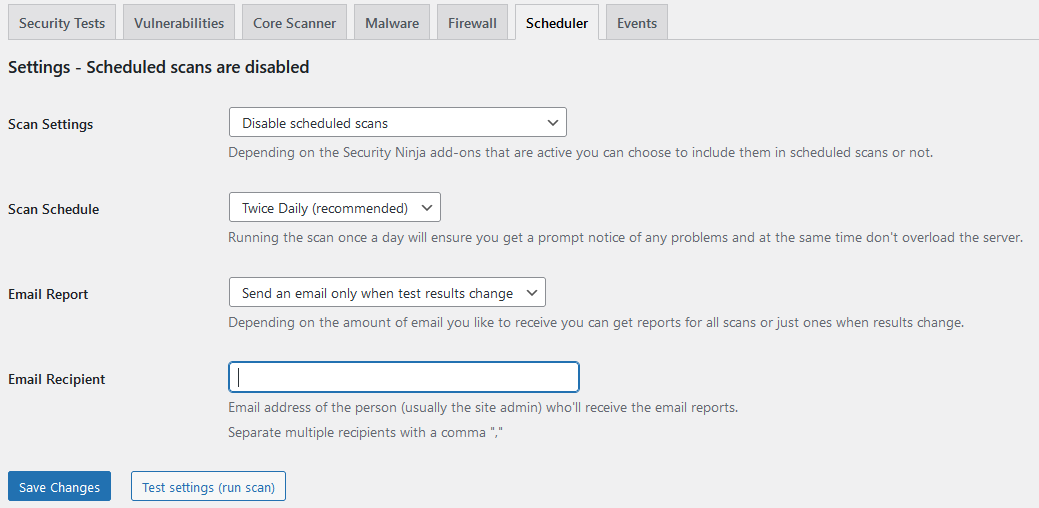 In addition to the powerful scanner tools provided by Security Ninja, you can schedule these scans at a certain time and be notified via email if anything unusual is identified. This way, you may schedule the scan to perform once weekly, monthly, hourly, and daily, or once every two days, or twice daily, and focus on other things while the Scheduled Scanner takes care of this part.
It is super easy to set up, and you get automated scans and email reports, alerts if your website gets hacked, detailed scan logs, and more. Every scan log will appear at the bottom of the section in the 'Scan log' compartment.
5. Events Logger
This one enables you to monitor even the slightest activities on your website, know what happened, when it happened, and who did the exact action, avoid misunderstandings, filter events, and monitor, track, and log more than 50 events on your website to the smallest details, as well as receive email alerts for them.
Events Logger tracks and logs every event, and records the date and time of their appearance with a short description, username, user role, IP, and agent role of the person who did the action.
It functions normally with any WordPress theme or plugin without any issues.
6. Vulnerability Scanner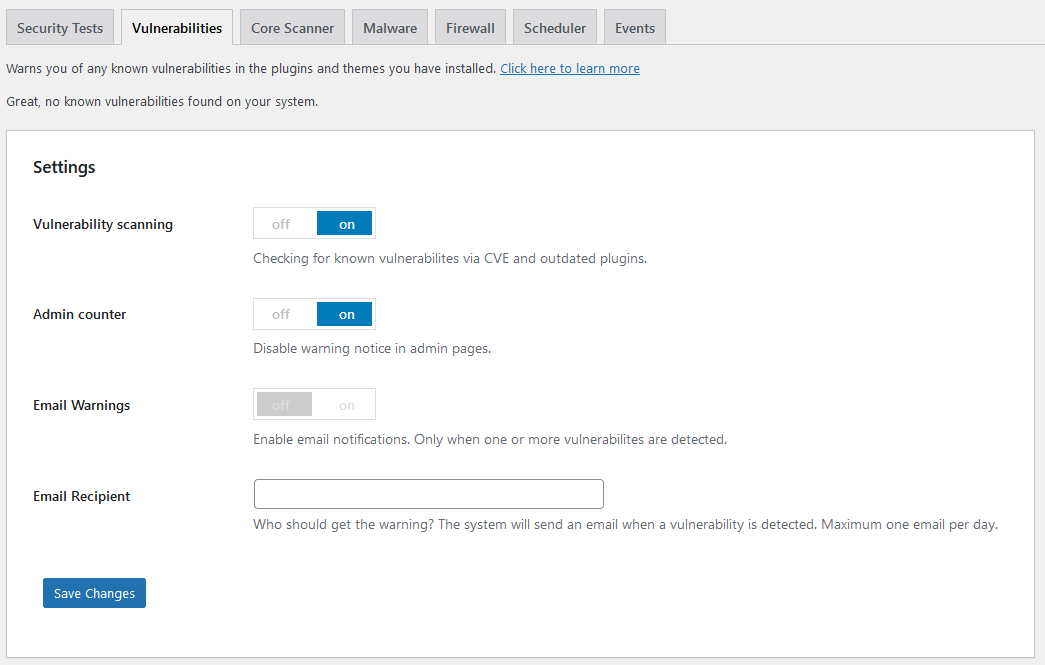 Security Ninja prioritizes its users' website security, therefore this feature is available to both free and premium users to notify them about vulnerable plugins they have or may want to install, keeping their websites safe and protected.
Furthermore, Vulnerability Scanner offers you free detection of any vulnerabilities that may be present on the website and warns you about the potential problem with those plugins that are prone to hacker attacks. What this tool does is scans all public repositories in search of potential vulnerabilities related to WordPress and compare them to the plugins you have in your plugin gallery.
7. Security Testing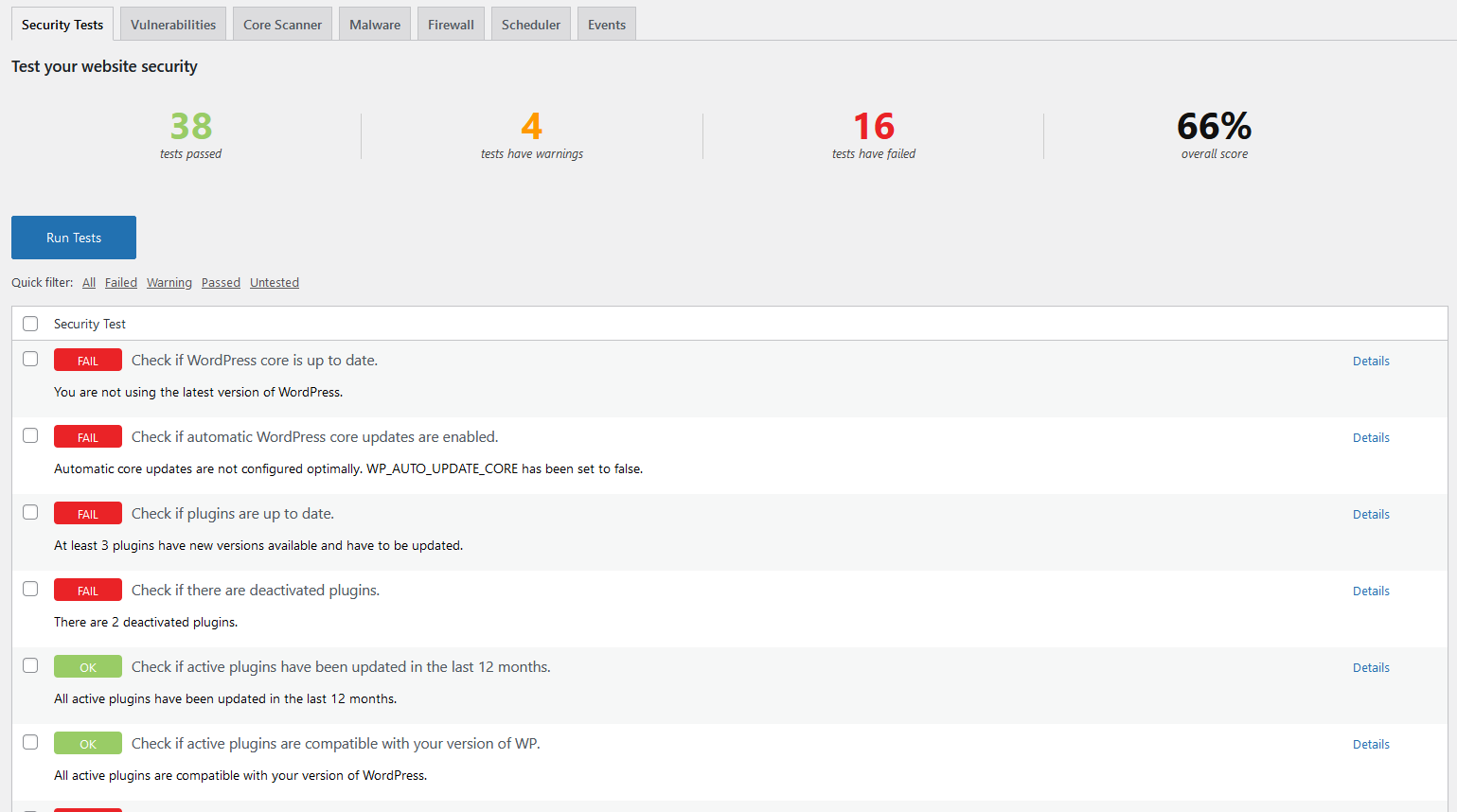 Lastly, as a cherry on top comes Security Testing as the main feature Security Ninja has to offer! It performs rigorous security tests on your WordPress website and delivers complete reports of everything you need to know about it.
This tool checks everything – from the quality of passwords, plugins and themes condition, and WordPress core configuration, to poorly configured accounts! It conducts a thorough analysis of every detail on your website and provides you with color-coded results that are easy to read, with an overall score for better examination.
It is super-easy to perform the test process; all you have to do is to go to the 'Security Tests' section in your Security Ninja dashboard and press the 'Analyze Site' button. Now the tool will manage the analysis which takes less than a minute! When completed, the exhaustive report will show up with all the details:
Overall score: how many tests the website has passed and failed, and total warnings, with success percentage in the end
Status of every test: color-coded report for easier assessment
Details & Tips: the tool gives you directions on what you should do to fix the specific problem (Check if plugins are up to date, e.g.)
For further information and a detailed guide on how this particular tool works, visit this link to find out more.
MainWP integration
Security Ninja works seamlessly with the MainWP plugin which enables you to manage multiple WordPress websites from a single location and carry out their maintenance such as updating their plugins, themes, WordPress core, security scans, backups, and other management work.
It allows you to download and install their free extension for MainWP and see a list of all websites where Security Ninja has been installed. To do so, go to your WordPress plugins page, search for the 'Security Ninja for MainWP' plugin, and just install and activate it.
Now head over to your MainWP dashboard and look for the Security Ninja section in the left-hand sidebar. When you click it, all of the websites you manage will be displayed. This is how it's easy to check if any of your websites contain vulnerable plugins from a single location.
Test the plugin
Security Ninja's exceptional devotion to user experience is shown in the feature they offer to anyone who explores their software and wants to test every feature in depth. You can easily test and explore Security Ninja software for your WordPress webpage using their DEMO!
All you need to do is to enter your email and the software will create a fictional WordPress website for testing Security Ninja and all its magnificent features we described above.
Conclusion
Website security is something you should take seriously, and with that in mind, we strongly recommend Security Ninja as the ideal tool to help you achieve the maximum level of security on your WordPress site.