When it comes to online shopping trends in the world, it is noticeable that the growth of such consumers is growing unstoppably. It is precisely thanks to the advantages and possibilities of the Internet that online trading has become a trendy way of trading. In the broadest sense of the word, it represents all ways of doing business via the Internet, such as buying and selling goods, services, money transfers, advertising, etc.
We all know that the Internet counts more and more users and potential clients. And this indicates that it is a very suitable place for realizing various business ideas. The online store is a point of sale open 24 hours a day, and products are available even to the most remote Internet users.
Any mass expansion, including that related to the use of the Internet, as a new global economic space, entailed positive and negative aspects. Like in real life, there are many forms of fraud, theft (of money or identity), misuse of personal data, etc., in virtual or online life. Nevertheless, regardless of the mentioned dangers, the number of shopping users online is growing. Because, nowadays, the Internet is a necessity, its expansion is a reality, and its possibilities do not stop developing.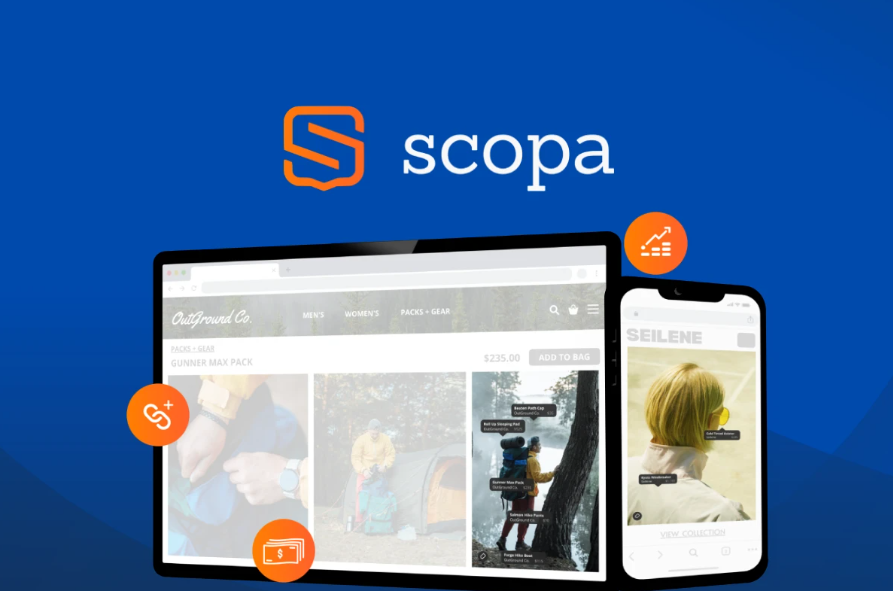 So you probably had the opportunity to see on social channels pictures with tags to help you buy the product. Today, it is a significant relief that delights users and increases revenues. Many tools can do the job for you in no time, but let's talk about the best one. Currently, it is Scopa Shoppable Product Tagging. It delighted us. And surely you will too. Let's find out more about this tool.
Scopa Shoppable Product Tagging
This tool will make it easy for you to add tags to any product image. The number of tags is not limited, so you can tag as many products as you want in one picture. The Scopa tool will make your work uncomplicated and increase income and traffic. It is intended for anyone who wants to sell anything. So there are no restrictions. Also, the good thing is that you can find out the opinions of your audience about that product, analyze them and work to improve them. You can find all the analytics about the listing of your product. The content you tag can appear on any corner of the Internet.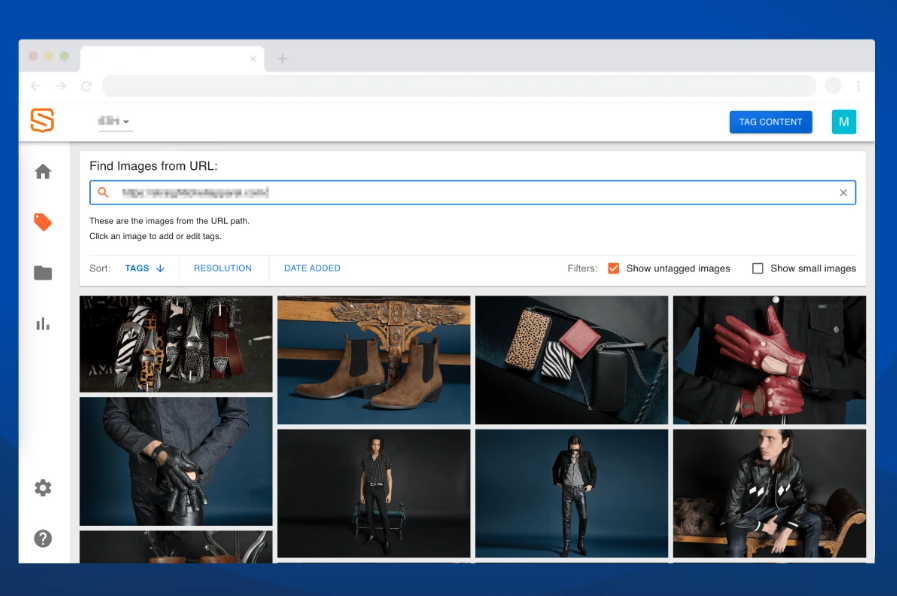 This tool is easy to use and very flexible. You will learn a lot using this tool and even about the product you are selling. As for the tags, the job will be done in a few minutes. It's up to you to decide how many links or products to link to one image and save you time. Product image tagging will improve your overall analytics, which can be customized and optimized easily.
Why is it still essential to tag products in images? Direct links associated with the picture will save everyone's time. This is very important for customers who usually want to save time and therefore opt for online shopping. One more thing. If you are based on group tagging, the customer may like all the products in the picture. It can be a simple jackpot. Clicking on direct links can help you analyze which product is the least in demand and work on your marketing.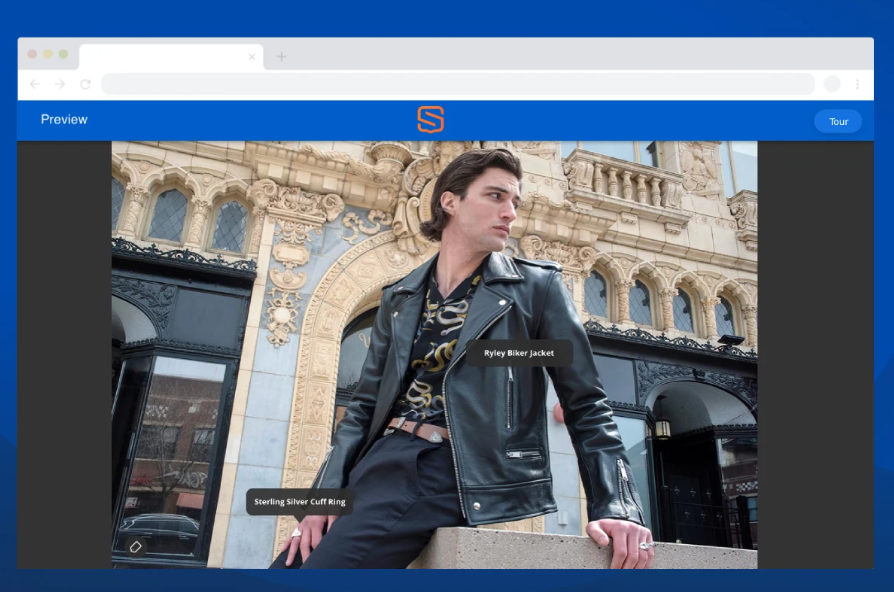 Let's learn a little more about tags. Once the image has been added to the platform, it is time to mark it up. How? This process is uncomplicated. Tags have a default design created for social media needs, but you can easily customize it. Everything can be adjusted to your wishes, which reflects the flexibility of this tool.
You can also choose or create themes, change brand colors or create label styles. Before publication, it is possible to see what the tags look like in the image. You can add different performances specific to some products. Once you have selected everything and adjusted it to your liking, all that is left is to click Publish.
Then, monitor how the tags are displayed and interact with users in real time. This type of product marketing has proven to be very effective so far. In addition, linking images with direct product links reinforces the e-commerce strategy and attracts visitors. It is essential to know that this tool integrates with all e-commerce platforms. Scopa also features user management controls, automatic publishing, advanced analytics, and automatic engagement tracking.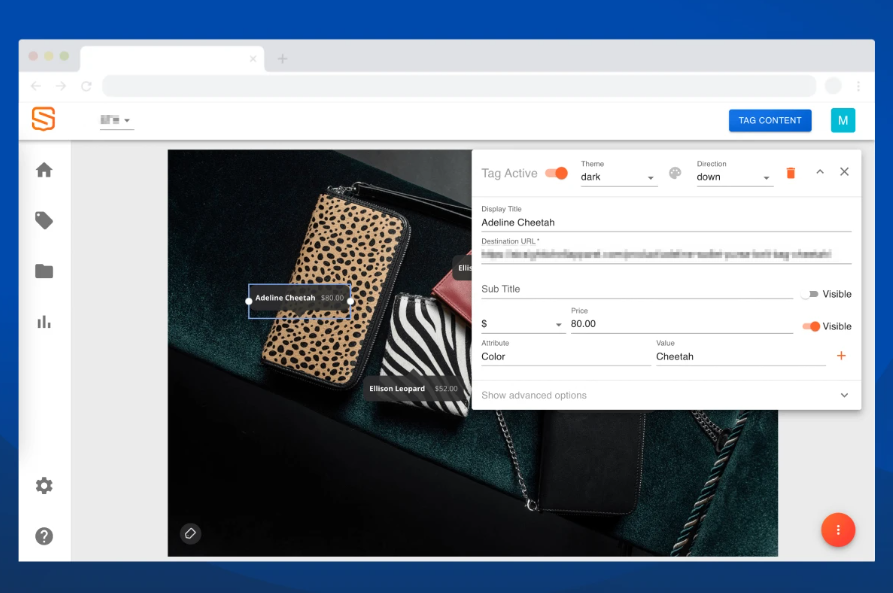 What could we emphasize as important? Image. Visitors are always attracted to visual content. If your product image is good, users will be interested in learning more about that product. Then your star begins to shine. Another way to promote your product is to tell an interesting story about that product. Although tags have proven to be a more effective way.
But it is possible to combine these two ways. This is perhaps the best way to keep the attention of users who will very soon turn into your regular customers.
If you are still wondering if tags are essential, we will remind you of something else. You yourself know how much social networks influence the success of e-commerce today. Tags can be a great way to link graphic content to a product. This will enable cross-selling, which will be crucial for increasing revenue and traffic.
Final Words
Global sales platforms such as Amazon and Alibaba are increasingly popular. The number of specialized online stores is growing because customers are more and more often on the Internet and buy via mobile phones. Shopping online is more efficient, often cheaper, saves time, and protects us from the current pandemic.
Every day, more and more retailers switch to online sales, while entrepreneurs start their businesses through e-commerce.
All this means that the competition is growing. There is room for everyone under this sky, but it is important to stand out. Work and effort are things that never go unnoticed. That's why it's time to start using Scopa to blow away the competition.