For all we know, you could be a WordPress developer, a user who is having problems with a website, or someone who is new to the WordPress platform. You've messed up the site and need to reset it. Unfortunately, if you want to achieve this by continuously going to the WordPress dashboard, you'll have to put in hours of work.
Furthermore, some plugins include special CSS or JS code that you cannot remove even after the plugin is uninstalled. Do you really want to lose all of your data merely to clear the system? Even if you back up and re-upload backup files, the problem could still be there, and all of your trouble will mean nothing.
When resetting your entire WP installation or just parts of it, there are other variables to consider, and you'll have to choose the right tool. WP Reset is an all-in-one solution that will help you with all of these issues.
WP Reset
This tool was created for both newbies and seasoned developers that create new WordPress sites on a daily basis. It's capable of debugging and maintaining a large number of WordPress sites. WP Reset allows beginners to learn how to use WordPress, develop sites, and return to the basic WP environment.
If you're just getting started with WordPress, you might want to try out plugins and different themes to see what it has to offer, then undo all of your modifications to the default settings. With more and more businesses moving to the internet, WordPress is one of the simplest methods to establish a web presence.
The DIY feature of WordPress appeals to users who want to develop their own website since it makes it simple to produce quality websites. Novices can easily make mistakes as they go, but it's not an issue with this plugin as they can return to their previous setting in a couple of seconds. So, let's get into it.
Features
Site Reset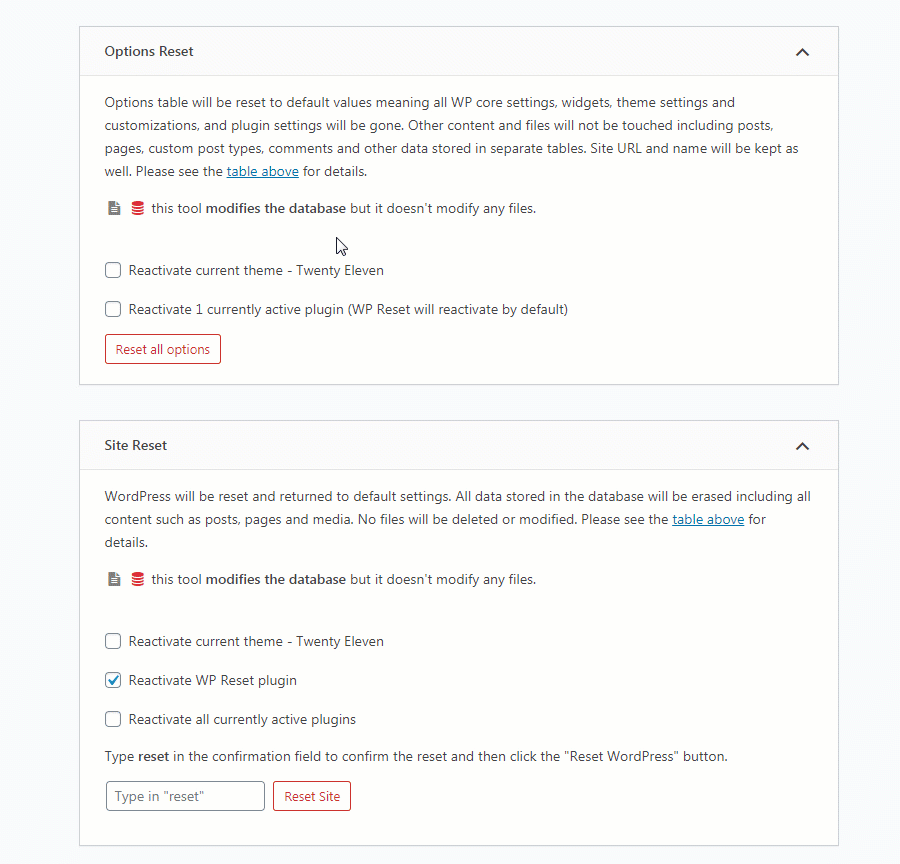 The Reset option can be found on the first tab of the WP Reset Menu. You have three options for resetting from here. So, let's look over each one individually.
Reset the options: This is a complete overhaul of your website. It will disable all plugins and delete all widgets from your website. This plugin, however, unlike some other ones you can find, will not delete any of your posts or pages.
Site Reset: This will delete all of the site's posts and plugins. Additionally, the plugin will erase your hosting account's default WP database and tables.
Nuclear Reset: This will erase all of your website's data. It will even erase the default WordPress settings. But, it is important to mention that WP Reset makes no changes to admin user or site settings like URLs.
Collections and Bulk Installation
Every designer has their own preferences and uses the same plugins and themes. You can use WP Reset to save a list of your favorite themes and plugins to install them with a single click when you build a new site or reset an existing one. This saves you a significant amount of time, in fact, many hours, allowing you to take on more work, which equals more cash.
Time is saved in another manner since the bulk demo data, which formerly took an hour to clear, can now be wiped in a single click using WP Reset. Small activities that take up an excessive amount of time are a hindrance to productivity, so get rid of them.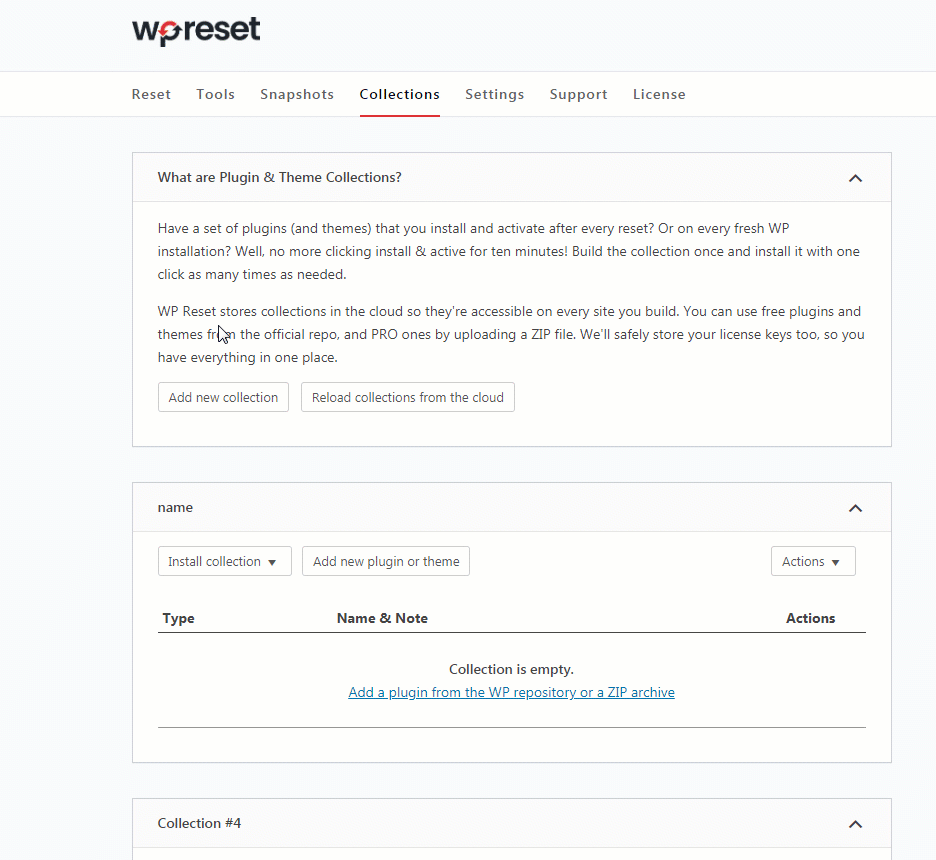 Snapshots
The Snapshot is one of the plugin's most intriguing features. You can use it to either create a full backup of your site after each update or have it done automatically. The plugin will backup the updated database after each update.
So, how exactly do you use this feature? The Snapshot creates a new backup whenever you make changes to your website, such as upgrading plugins or altering settings. You can use this feature to compare the newest and earlier snapshots to see what is active and deactivated after the modifications or delete any changes you don't like.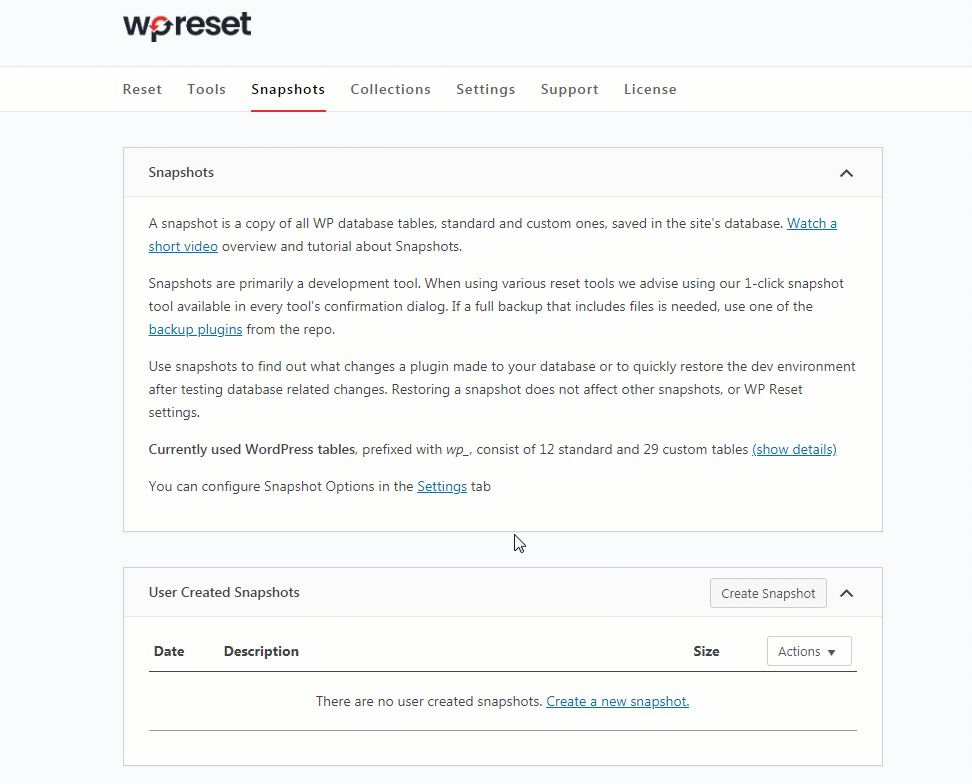 Whitelabel mode
This is another option beneficial for businesses since it allows you to hide licensing information and other information from your clients. You can fully personalize the plugin to your liking and use it with your clients if you're in the business of web maintenance.
The Emergency Recovery Script (ERS)
The majority of WordPress issues can be solved by installing a plugin, but what if you can't access the dashboard at all? If that ever happens, the ERS might be your only option. This is a single-file PHP script that doesn't require any other resources or plugins to run. It analyzes your whole WordPress installation and provides you with 12 tools to resolve any difficulties that may have arisen so that you can once again access your WordPress installation without difficulty.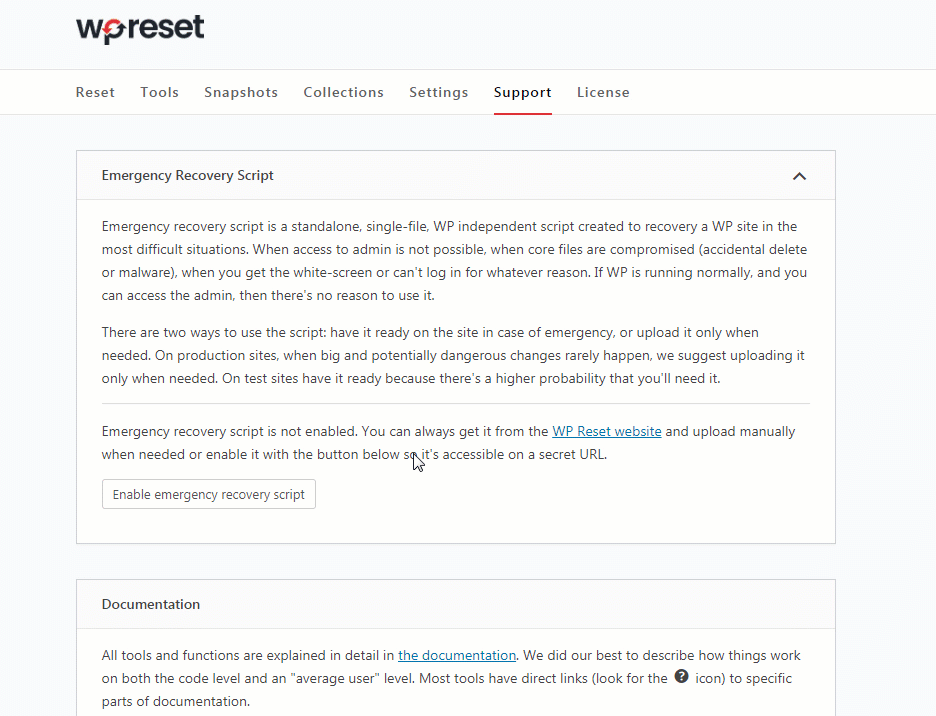 Single Dashboard
The WP Reset Dashboard is a fantastic addition. You can manage all of your sites, licenses, snapshots, collections, and more from this unified spot. This is the software-as-a-service part of this program, which makes working on projects a breeze.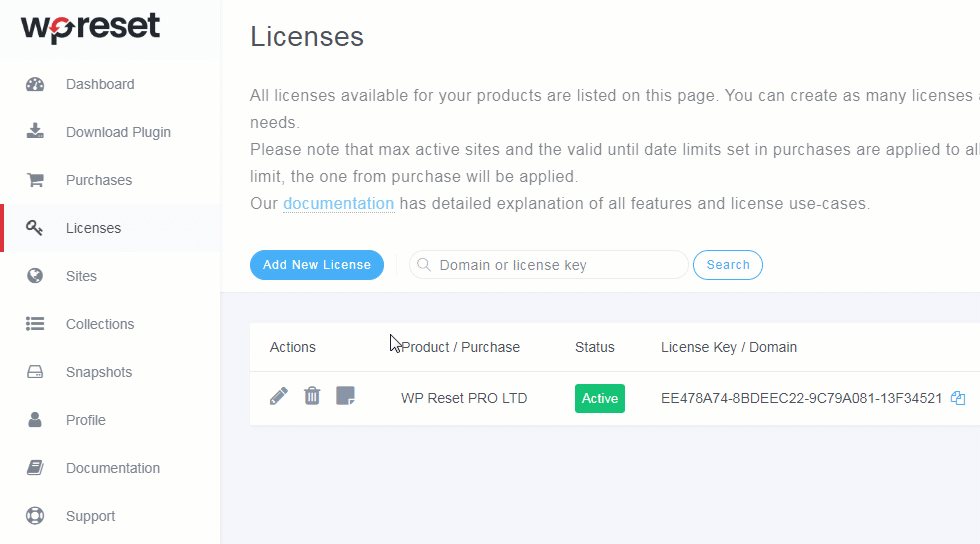 Why WP Reset?
WP Reset is a plugin that does more than simply backups and resets. For novices and sole site owners, this is one of the greatest development tools available. You can view all of the info on the website in one location and update it to suit your requirements. If something goes wrong, you can also easily restore everything with a single click.
Every website owner is concerned about the site they have worked so hard to create. So, if you don't want to lose your 100-page website or spend a lot of time fixing it, WP Reset is the solution.