Online learning is getting more and more popular today. Internet unarguably has brought a massive alteration in many aspects including teaching and learning process.
Among world's leading online learning choices, MyAccountingLab becomes one of the best. Presented by Pearson, MyLab Accounting provides not only online tutorial but also online homework and assessment products.
MyLab Accounting enables the students to get an engaging experience when learning Accounting. They can improve many aspects of Accounting skills from almost anywhere, as long as they are connected to the internet.
Providing immersive tools, content, and experiences, Pearson MyLab Accounting is undoubtedly a perfect choice to learn Accounting.
Get to Know More about MyAccountingLab
Pearson's MyLab Accounting is among world's leading online tutorial, homework, and assessment products. This online learning is specifically designed to improve the outcome of higher education students, resulting in their success. To reach this goal, Pearson MyLab Accounting works together with institutions and educators.
MyLab Accounting received input over 11 million users each year. With this amount of students, Pearson offers engaging online learning experiences which are personized with the users.
Unlike the other online learning platforms, Pearson MyLab do react to how the student users are performing during the learning process.
This includes how the students offer data-driven guidance which helps them comprehend the materials as well as understand the difficult concept. It becomes an important aspect as the platform can find out how effective the tutorial and learning can be.
In addition, Pearson MyLab Accounting provides Learning Management System integration service. This service enables you to access the platform from Canvas, Brightspace, Blackboard Learn, or Moodle.
In other words, MyLab Accounting provides support, integration, as well as training that you need to master Accounting.
How to Get Started
To achieve a successful future with Pearson, you should actually know how to get started. The following things are three basic needs when you are about to register yourself to Pearson MyLab Accounting.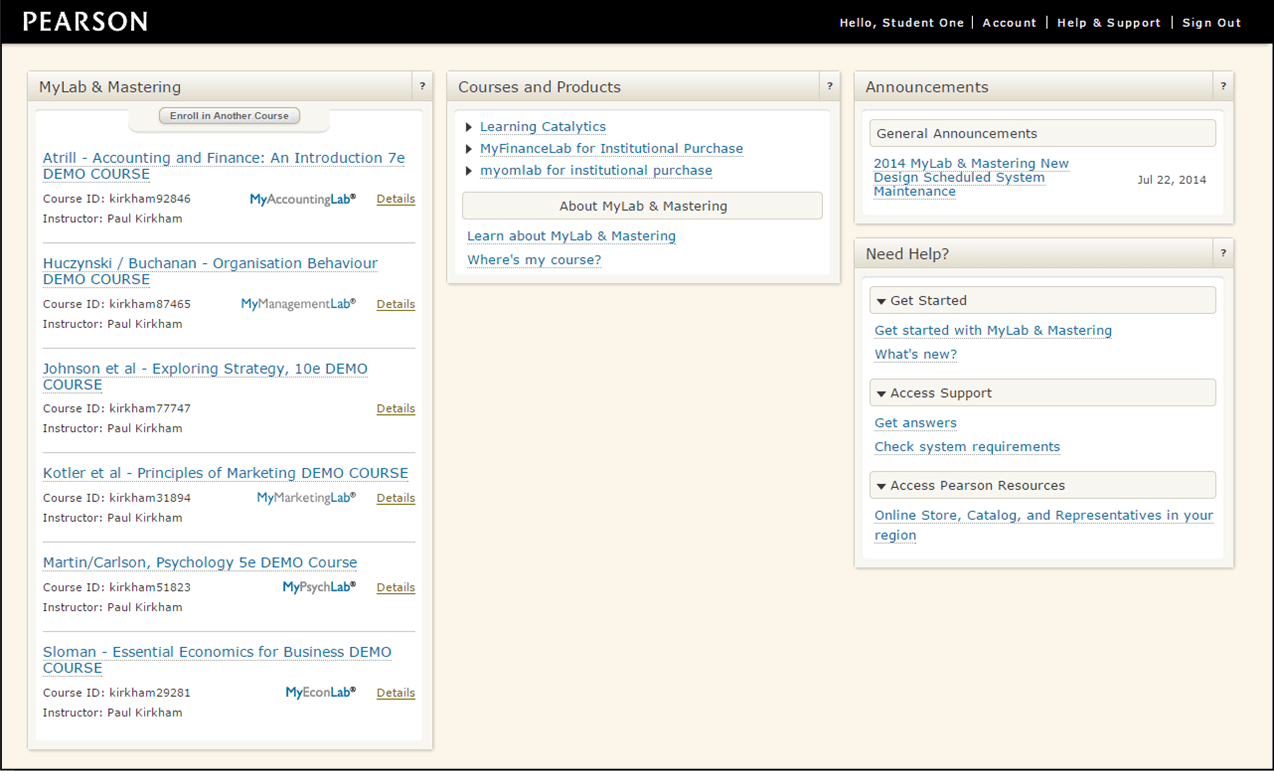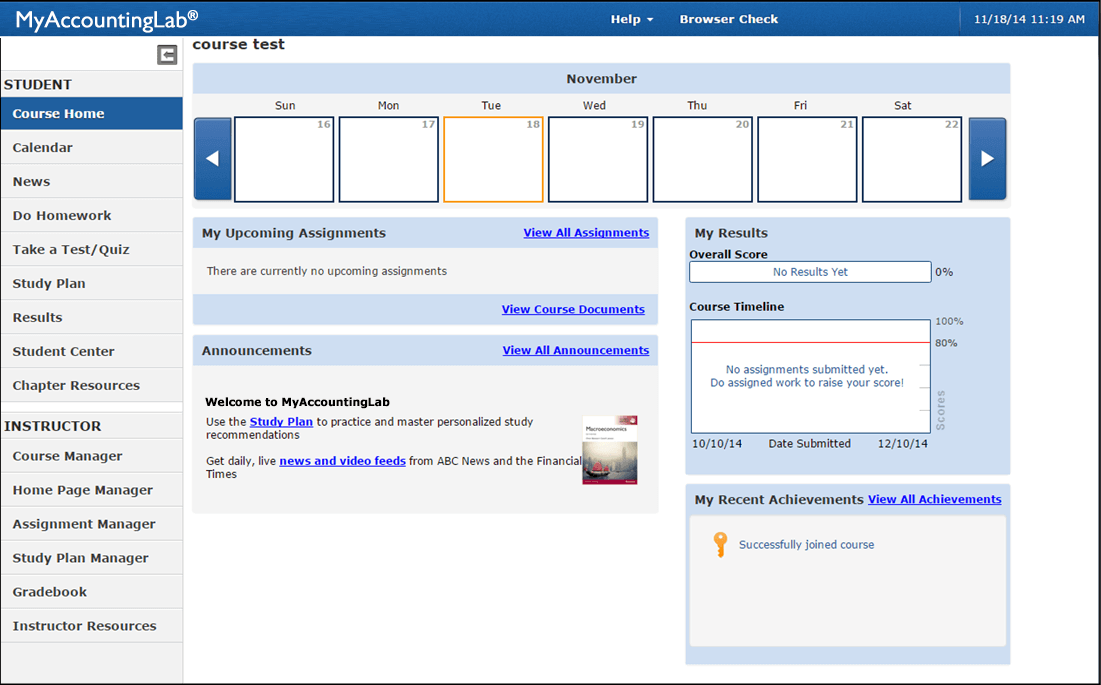 1. Email address
Prior to registering yourself as a user in MyLab Accounting, it is necessary to provide a valid email address. One provided by the university is more preferable than your private email. Using this email, you will be getting important emails from the instructor.
2. Instructor's course ID
The other thing that you will need is a Course ID. This ID that consists of the combination of letters and numbers links you to your course directly. How if you don't know the Course ID? You should the instructor or classmate right away.
3. Access code or credit card
You will also need an access code to get started. This access code can be redeemed when you register yourself to MyLab Accounting. Or else, you can also use PayPal or credit card to pay the access.
Do these 3 basic things are already with you? Then you can start registering yourself to Pearson MyLab Accounting.
The registration process is quite simple. Visit Pearson MyLab Accounting official website and click Student on Register Now section. Submit your Course ID and follow the next instructions.
MyLab Accounting Features
The online learning platform boasts several features, providing the student users with engaging experience of learning Accounting.
The features, in addition, become the reason why million students register themselves to MyLab Accounting by Pearson. What features are available? Check out the following benefits and features to enjoy:
1. Interactive tutorial exercises
Everybody agrees that practice makes perfect. This can be applied almost anywhere, including when learning Accounting online.
MyLab provides homework and practice exercises which are correlated to the exercise you can find in the textbook. It enables you to comprehend more about the material.
Furthermore, MyLab also allows you to master materials and concepts by way of providing more mastery and practice.
After doing exercise, you can check if your answers are right or wrong through guided solutions. The presence of sample problems and learning aids give a better mastering. What if your answer is incorrect? MyLab will give helpful feedback to help you out.
2. Examples of theory
Sometimes it is hard to understand a story because you don't have a clear visualization of how it really happens in real life.
MyLab Accounting gives an answer to this. Student users can see examples of theory in real life. You can find some articles from the Financial Times along with questions to help you with a better mastering.
3. Effective and efficient study
Learning in a conventional classroom has a lack. Student learns not in the same way as well as at the same rate. This results in a less effective learning process.
MyLab Accounting knows this well, thus it provides a personalized learning. This makes studying more efficient and effective.
The secret behind its advance learning process is the adaptive learning technology. With this technology, you will feel like you are the only student in a class, allowing the instructor to personalize with your learning ability and speed.
The platform also assesses your performance using data and analytics, providing sufficient information about your strengths and weaknesses in learning Accounting.
4. Personalized study plan
It doesn't stop there. Pearson MyLab Accounting also offers a personalized study plan. The generated study plan is based on your test outcome. This plan links to tutorial and interactive exercise for material that you need the most help.
The exercises provide you with unlimited practice as well as guided solutions to help you comprehend the topics. Not to mention multimedia learning aids are also there to help you.
5. Additional feature
As an addition, Pearson MyLab Accounting works almost anywhere, including your mobile devices, laptop, desktop, or tablets.
In addition, it comes with intuitive and fresh design to promote a fun learning. It is also worth mentioning that the platform works well in various operating systems including windows, Android, and iOS.
All in all, MyAccountingLab is an online tutorial and exercise that you need to improve Accounting knowledge and skills.
It provides a lot of features such as personalized study plan and interactive tutorial, allowing you to get the best out of it. This is your way to a successful future in Accounting field.