In this digital era, it is crucial to be one step ahead and adjust to the modern way of life. If you own a business or just starting with it, you are probably thinking of the best way to expand it and reach out to a greater number of customers. The most effective way to make your brand or services recognized is to start a website because this way you will open the doors to new customers. We understand that building a site from a scratch is an easier said than done task, but this is why we are here to help you with our advice and make your path of starting a business less challenging.
You should bear in mind that it is essential to be bold from the very beginning of your business and make sure that your future customers are intrigued by it. If you have made a decision to move your existing business online and start your new website, be sure that you can make use of it even if it is not done yet.
What is UnderConstructionPage plugin?
With our UnderConstructionPage plugin, you can start your online business with style. In other words, you can announce your new online business by using a coming soon page or under construction page. This way, you will have enough time and space to finish it without rush, but marketing will not suffer because customers will be able to see that something new is going on with your site. These "coming soon" sites have recently become extremely popular, and you can run into them very often. The best part of it is that customers will become curious and keep coming back until the website is done to see what you have to offer.
The Main Features of the Plugin
Easy to set up and use
This plugin is not like other builders with a bunch of unnecessary options that take a lot of your time. UnderConstructionPage is simple to install and user-friendly. It offers a lot of eye-catching themes and designs that take as little time to install as possible and that your customers will absolutely love. The setup of the plugin using a template is a piece of cake. All you have to do is enable the under-construction mode, choose the timing and affiliate links, and pick a perfect template.
Over 320 eye-catching templates
The UnderConstructionPage plugin offers over three hundred templates that can make your life and job easier. It might be fun to build your landing page, coming soon page, or maintenance page on your own, but sometimes there is not enough time to do that. In that case, you do not have to worry because there is an abundance of templates of every kind that cover everything from sales and landing pages to maintenance and coming soon pages. They also cover all areas and niches and are fully customizable thanks to our drag&drop builder.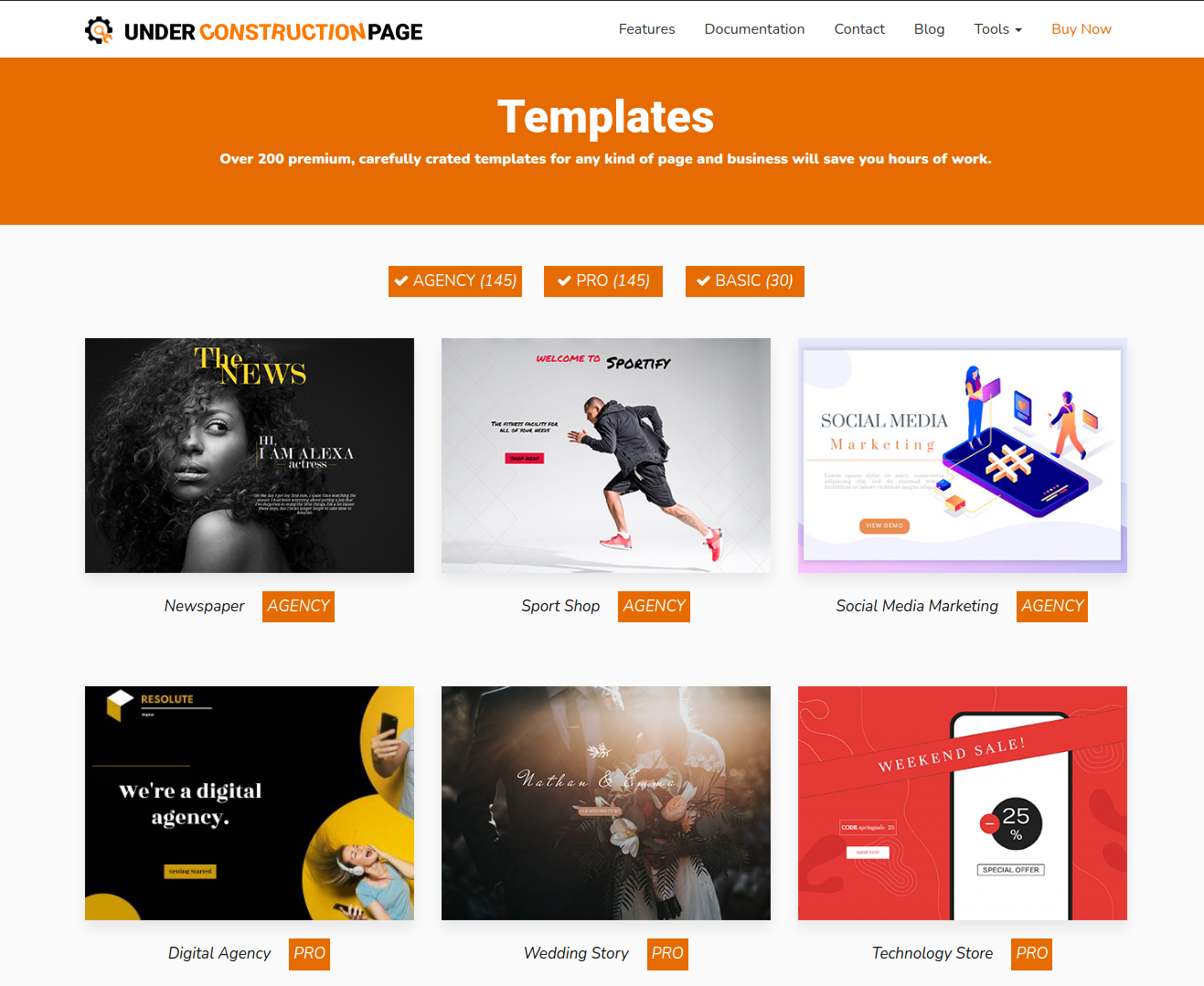 We are all aware of the fact that aesthetics are sometimes the key to success, so you should put some effort when it comes to choosing a perfect image for your website. Finding the right picture for your website is not an easy task because you have to watch for the details such as the size of the image or its price. Luckily for you, our plugin comes equipped with over 3 million beautiful images in HD and 4K resolutions and the best thing is that you can search for them with keywords.
Affiliate & Traffic Tracking
Another amazing thing about UnderConstructionPage is the ability to track and target your traffic. The plugin allows you to generate tracked inbound links with only one click and share them across social media or with the affiliates to find the source of the traffic with the highest conversion rate.
Build any One-Page Site
The worst thing is to be or feel limited and that is why our plugin gives you complete freedom and maximum flexibility in creating your pages. You can build any type of one-page site with our plugin, such as coming soon pages, landing pages, sales pages, under construction pages, and maintenance pages. You can also set up UCP to control your entire website, the front page, or any other page that you choose. There is not a single thing in building such sites that you cannot do with UnderConstructionPage.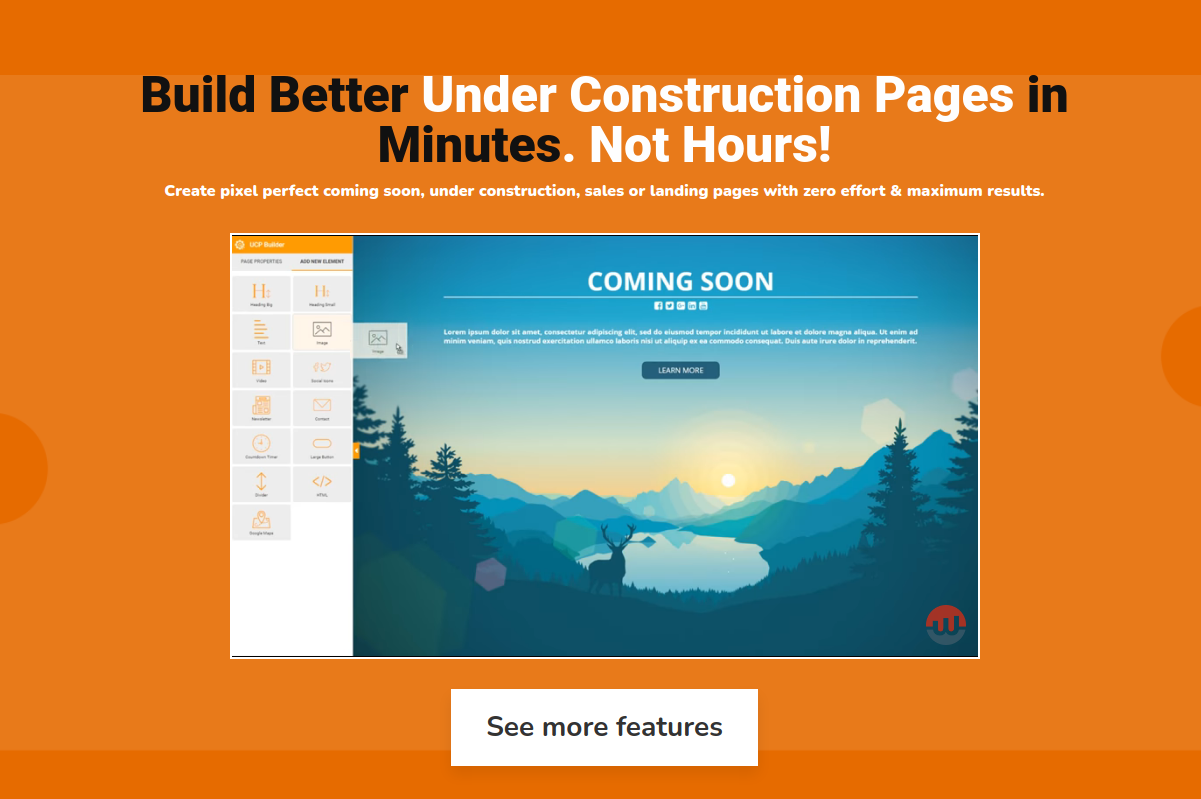 Of course, there is a whole bunch of other amazing features that can save you a lot of time and effort when it comes to setting up such a page. For example, you can choose the automatic start and stop of the page on the selected date, track the traffic with built-in Google Analytics on your site and affiliate links and see statistics of views, sessions, and conversions. Furthermore, you can enjoy building your site with advanced drag&drop builder modules. When it comes to access control, you can choose whitelisted user roles, whitelisted users, and whitelisted IP addresses. You can also add direct access links and affiliate links and use local storage for leads.
There are also other cool features such as:
MailChimp integration
Universal autoresponder support
HTTP response code settings
SEO visibility settings
Cache-control
Redirect to URL instead of showing UCP
Disable feeds, RPC, REST API
Import/export settings
Premium USA-based support
7-day money-back guarantee.
As with every other plugin, UnderConstructionPage comes in different variants, as well. You can choose among Agency, PRO, Basic and Free plans. There are some differences when it comes to features of the plugin, but for the best user experience and efficiency, we certainly recommend Agency or PRO version.
Conclusion
Now that you have become familiar with all the amazing features of this plugin, let us remind you that, although difficult, beginnings are extremely important. With UnderConstuctionPage you will give your online business a tailwind and notify your customers that they can expect something new, over and over again, each time you are doing some work on your website. So don't waste any time and put your website under construction.